PikkuBot: Premium License
(We do NOT use the Light Bot License) Important Information From PikkuBot Developer: PikkuBot may not work after November 1, 2021. To our understanding: The developer has not updated this software since May 2013 and has no plans to update it. The software is currently still working (after November 1, 2021), but Av2Bot will not guarantee it's stability. In the event PikkuBot fails to work indefinitely, Av2Bot will migrate your account to Corrade. PikkuBot - To obtain a PikkuBot License for yourself, you would need to buy a license for 6000L$
(If this is something you're interested in doing, please contact us and we will provide the information for you, or just search PikkuBot in SL Places Search)
(To our knowledge, PikkuBot no longer provides support, purchasing your own license is "At your own risk" We can only provide limited support on topics we know.)
If you choose Av2Bot as your bot hosting provider, we will use our license for you, but only for use on our server(s). The license we provide is not transferable & if you choose end your hosting agreement, we will revoke the license so that it may be used on another bot account. PikkuBot is limited to commands that do not affect the GUI (Graphical User Interface) because there is no GUI on our Linux servers. If there were, we'd have no way to allow "you" to use it. Aside from that, you can use every other command without an issue. Experienced users that need files added to any folder inside the bots directory will need to contact Jym Nova in Second Life. For fastest resolution, send a notecard with your bot information and an attached notecard inside it properly named with file extension e.g. (notice.txt) The named notecard with file extension will be a new file inside the directory and the contents will be copy and pasted into it so it will be ready to use. We will work on maybe allowing an FTP connection to allow uploads to specific folders in the future, but for now allow us 24-48 hours to handle it for you.
PikkuBot Commands Webpage
(Warning: If the PikkuBot Server(s) goes offline, we may be unable to support hosting this bot software, your accounts would need to be changed to Corrade.)
There is a 10 bot limit per avatar account on our system. If you need more, use an alternate Second Life Account. This limit can be any combination of Group Bot Services and Bot Hosting Services, either way, 10 "bot accounts" per avatar.
---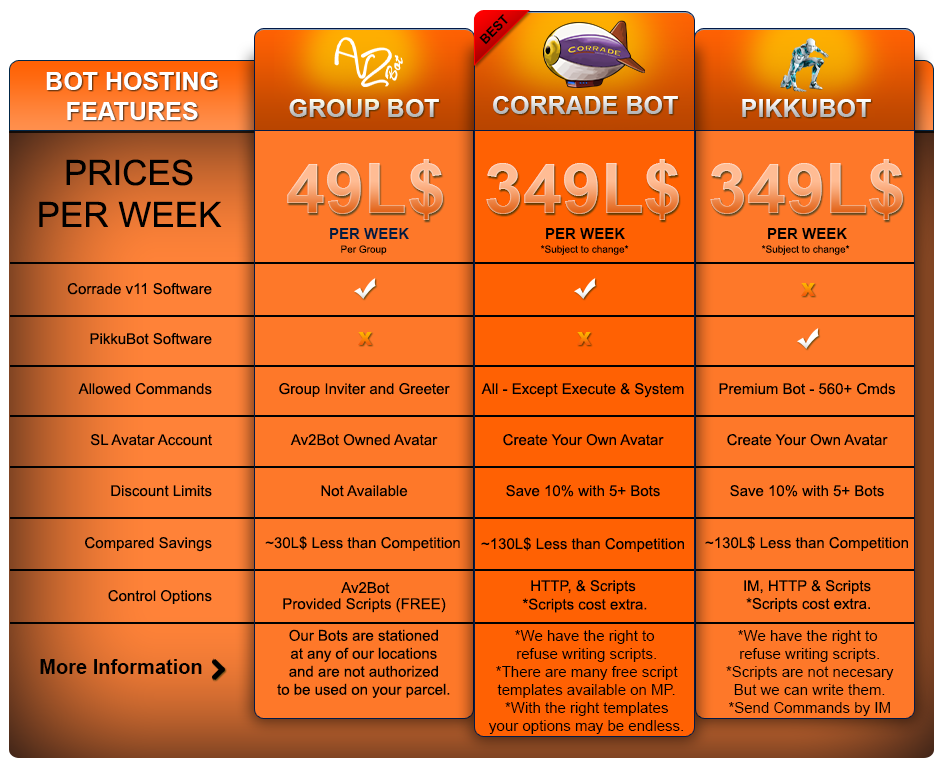 ---
Thank you for choosing Av2Bot Hosting.