CORRADE: Free License
Corrade Software is free based on it's Current License
(Corrade Hosting prices are subject to change (increase) with notice for users using AI and/or excessive server resource usage)
Question: If Corrade is free, then what am I paying for? Answer 1: You are paying Av2Bot to "host" your bot on our servers, which is not free. Answer 2: Bot stays logged in to SL & you don't have to run your own computer(s) 24/7. Question: Why is it that Corrade hosting could cost more than PikkuBot? Answer: Corrade is far more advanced and requires more resources to run it.
More resources = less bots we can run on each server. So we need to charge accordingly to be able to pay for the server(s).
Also, just because we say it "can" cost more, does not mean that it will cost more, you will be notified if the price will increase.
Corrade users will have limitations, you will not be allowed to access Nucleus (it will be disabled to prevent unauthorized permissions)
Therefore; You will need to contact Jym Nova to enable RLV & Notifications as well as permitting HTTP, MQTT, & TCP
By default, every permission will be enabled for bot accounts (except System and Execute). You will need to let me know if you want any of them disabled.
Av2Bot will also not allow system & execute permissions nor will we enable WebSockets.However, enabling HTTP, MQTT, and TCP is at our discretion. If Abuse is found, they will be disabled.
Scripts:
Although scripts are not necessary for PikkuBots they are needed for Corrade Bots.
Discord:
Currently - Corrade is the
ONLY
bot software on SecondLife that has a discord bridge. I would strongly suggest Corrade Bot users consult the documentation on developer website and take advantage of the free templates on MP. We will also provide a link to a user support group where you may be able to find people to write scripts free or cheaper than our script writer.
Corrade Commands Webpage
There is a 10 bot limit per avatar account on our system. If you need more, use an alternate Second Life Account. This limit can be any combination of Group Bot Services and Bot Hosting Services, either way, 10 "bot accounts" per avatar.
---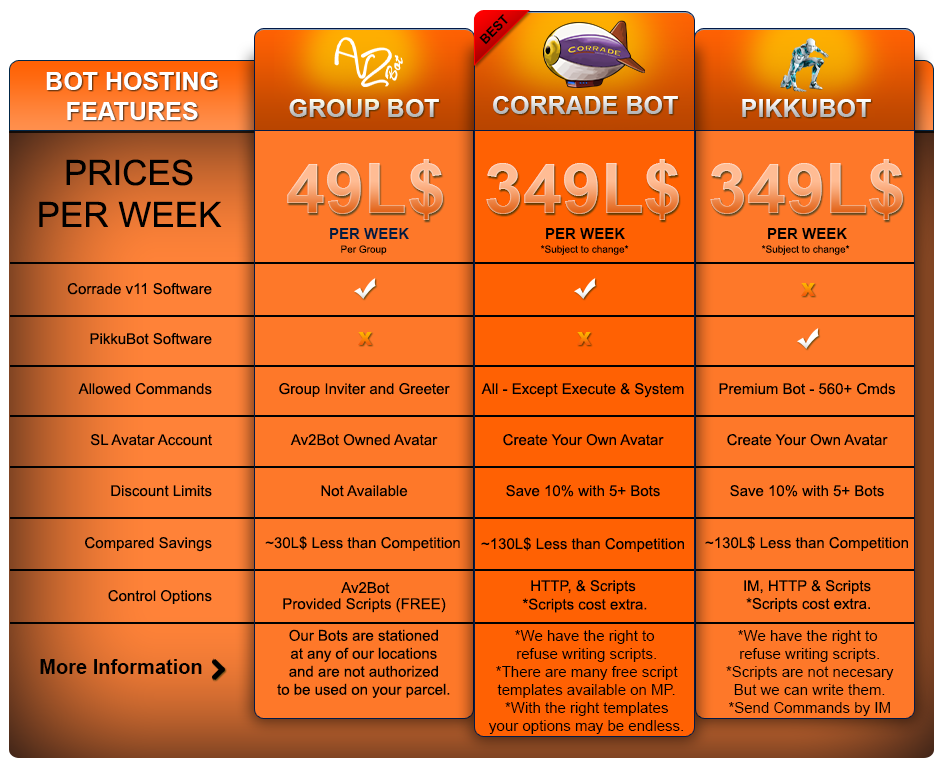 ---
Thank you for choosing Av2Bot Hosting.