Av2Bot Hosting Services
Some Important information you should be aware of! Bots are real Second Life® avatars. You will need to create an avatar to use as a personal bot on our service, if you don't already have one. You can use this link - https://join.secondlife.com/ to create a new avatar if needed. (SL limits 5 avatars per 1 email address).
(If you do not need a personal bot, we do offer some of our bots for greeting your customers and group invitations.)
If you at least have a basic understanding of being able to edit scripts and you want the "Best" option, choose Corrade Hosting! If you have never had a bot before and not sure what you want or need, I would strongly suggest you select PikkuBot Hosting! We manually set up all bots on our server. All bots will be logged in immediately once configured and will always restart if/when they crash PikkuBot & Corrade are fairly simple to install. Corrade Customers will need further configuration which we can update after the bot logs in. More information & limitations for each type of bot on their specific pages:
Corrade Page
&
PikkuBot Page
Av2Bot does not offer refunds, but, we will credit accounts for downtime that is considered to be "Our" fault. This includes a minimum 1 day extension for setting up your bots initial configuration. It is very important that when you register 1 or more bots that you provide accurate bot details first name, last name, and password. You will not be refunded or given more than a 1 day extension if you fail to provide the correct credentials to get your bot logged in. There is a 10 bot limit per avatar account on our system. If you need more, use an alternate Second Life Account. This limit can be any combination of Group Bot Services and Bot Hosting Services, either way, 10 "bot accounts" per avatar.
---
PikkuBot & Corrade Bot Configuration
After payment has been made and your account has been created a WebSite Link will be provided for you to register your bot. Your First Name, Last Name, & Customer ID will be pre-filled, but, we still need your Second Life bot login credentials. The Web Form will ask for you to enter your Bots First Name, Last Name, & Password. (More info in fine the print)
(The bots password will be encrypted if you enter the actual password, however; you do have the option to send us the encrypted password, instructions are on the Web Form.)
Accounts will be verified & activated within 24 hours & you will receive a minimum of a 1 day extension for any delay.
(You will get the 1 day extension even if we get your bot setup on the day you ordered it.) (If you provide an incorrect Password or MD5 Hash you will not get more than the 1 day extension.) Providing inaccurate information is not our fault and we will not be held accountable for the mistake.
---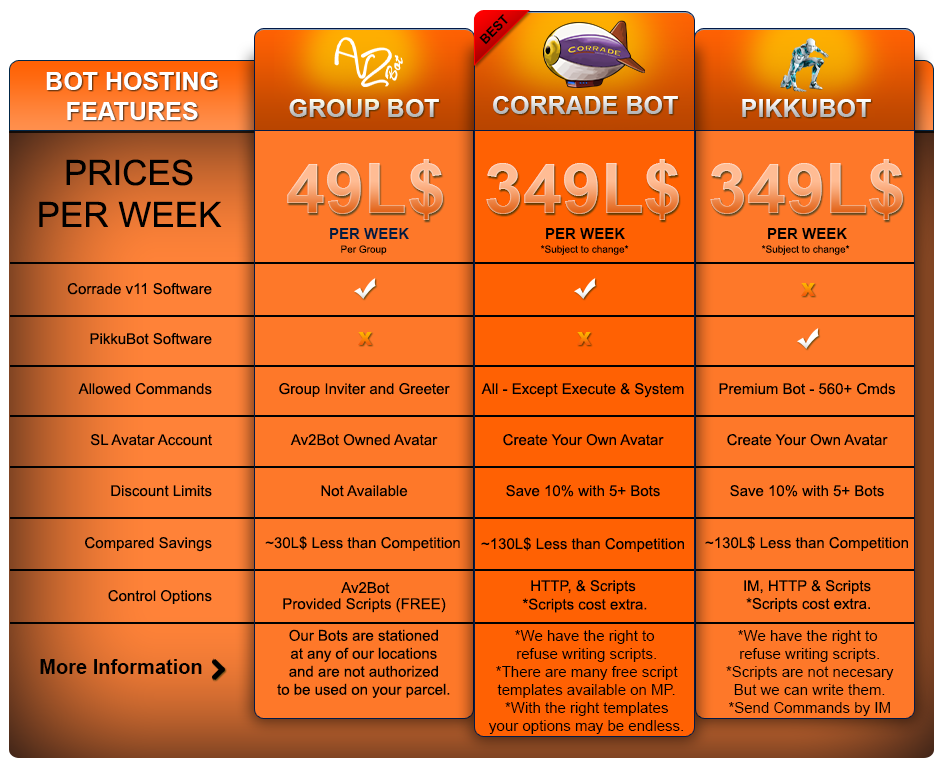 ---
Thank you for choosing Av2Bot Hosting.